More Independently Produced Result Images ...
What follows are a series of independent images photographed by DermaWave practitioner, Debra Martin. Several of you have shared your images with us, and we always appreciate that. We've currently chosen Debra's comparative photographs - not because the results achieved are any better or worse than those of others, but rather because Debra kept the shots fairly consistent, generally maintaining the light and the angles between shots within a series.
Let it further be said, as a matter of obligatory form, that Debra isn't in any way associated with us - outside of using our devices - and yes, she paid for her equipment. These images weren't shot for our promotional use, but rather for Debra's own investigation and edification.
| | |
| --- | --- |
| Before ... | ... and After. |
| | |
Hyper-Pigmentation, clearly - and a somewhat unusual case to us, revealing something akin to a mottling of the skin ... In any event, it was reported that this client had "tried everything", from fade creams to pricey ($500, a pop) Photo-Facial IPL treatments. We would have expected a high-powered IPL medical device to perform every bit as well as our DermaWave, but seemingly not in this particular instance. It surprised us, actually. Be that as it may, the above was after a total of five DermaWave sessions. The client reported that she was "very happy" with the results. More improvement could be yielded with additional treatments.
---
| | |
| --- | --- |
| Before ... | ... and After. |
| | |
Here, the lines around the eyes were the target. Debra quite inadvertently changed the angle between shots (and several weeks), but the story is still effectively told, without deception. The above represented six sessions.
---
| | |
| --- | --- |
| Before ... | ... and After. |
| | |
A virtual medley of pigmentation anomalies ... Darkened areas (as well as reddened areas) are much lighter and skin has a much more even tone. Here, too, six sessions were employed.
---
Creped Skin ... Told in a single shot.
Here, the hand on the right was used to treat the hand on the left with six treatments ... Pigmentation improvemets, too ...
Time to switch hands!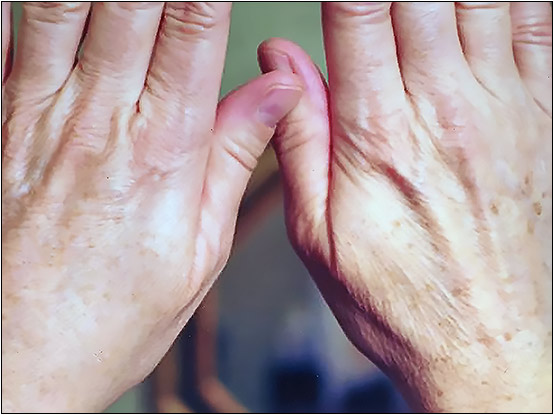 ---

www.dermawave.com

Oh, yeah ... Free Shipping, too.