Since 2001, continuing to Push The Envelope.
Always Conceived, Engineered, Designed and Produced In-House
888 . 704 . 5888
---
NEW! The Most Instantly Viral, Popular & Praised Article on LED Skin Care Technology We've Ever Written. Just Click Below ...
Yes, We're Open On Weekends!
Click Around for Some Spectacular Specials. Call Us for More.
No Hard Sales. Never Pushy. 888-704-5888
Click on any picture below or Blue Menu Bar for more detailed info. :-)
---
The Cubic 7 - X2.
Our Most Famously Popular Model. Now Updated.
Newest, High-Flux, Optically-Amplified Parabolic MED-Grade LED Planar Heads
for the revised 'Cubic 7 - X2' (backward compatible w/ the Classic Cubic 7 & older Cubic 5, too!).
Each LED segment - massively large - has the lumen output of 24+ conventional LEDs.
Simply stated, the highest output Med-Grade LEDs ever made, relative to stated wavelength.
5 MINUTE TREAMENT TIME (for face) - and no, we're not kidding.
DermaWave users have been doing it with the original Cubic 7 model for 10 years.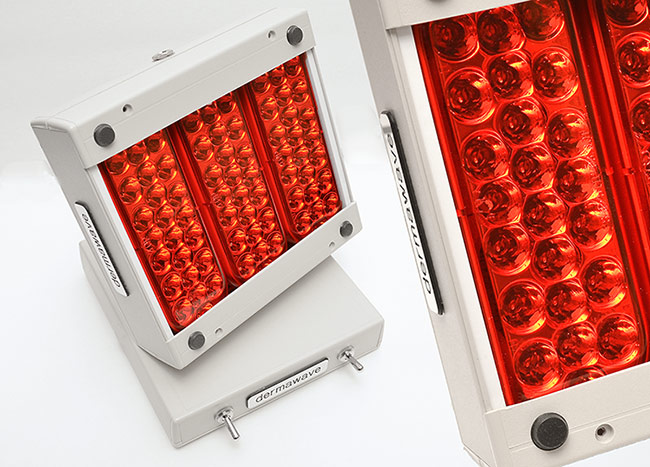 Genuinely Med-Grade Professional Units for Professionals.
We don't produce photo-rejuvenation devices with generic, consumer-electronics LEDs.
DermaWaves are Modular, Open-Architecture, Cross-Compatible, Expandable.
Also Backward-Compatible with all DermaWave models dating back to 2002!
Hermetically Sealed LED arrays - no exposed, open raw circuit boards. Sanitary ... and safe.
True MED-Grade Results.
Runs the MC-Series Micro-Current Head with no additional machine required.
---
True Pro Machines Deliver Professional Results.

Working with scars that were two years old (not as a result of a natural healing process), famed French Dermatologist & Lecturer, Francois Michel - a longtime DermaWave user, employs our device to yield these results in four treatments. The results may not be 'letter perfect' in absolute terms, but to the client that was long living with the 'Before Picture', imagine her enthusiasm. This, after all, represented an extreme condition that had been undeniably improved beyond what most imagined.

Imagine, then, what DermaWaves can do with conditions less severe. It's why we're a fave among the professional skincare community - Dermatologists, inclusive - and have been ... for years.

Again - also runs our MC-Series Micro-Current Head, as well. No additional machine required!
Old Head Turn-In Program for your wand heads apply! We treat our people right!
---